Sustainable Solutions are the Core of our Business
We are all committed to the same goal: Together towards a sustainable world and healthier living.
At SARIA, we are immensely proud that sustainability is at the core of our business model and that we can consider ourselves pioneers in the circular economy, long before it became a buzz-word. For more than 40 years, we have found innovative ways to keep things flowing in a cycle in the agriculture, energy, animal, feed, food, catering and pharmaceutical industries. On this tradition, we build, but we do not rest on it. We are convinced that corporate responsibility and sustainable practices are the key success factors for creating shared value in our core business and beyond. An overview of our sustainability activities can be found in our sustainability report.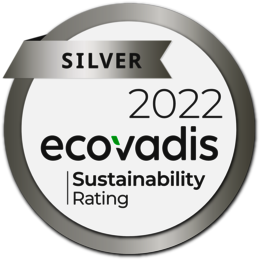 EcoVadis Silver Status: Award for the Manifold Sustainability Activities within the SARIA Group
The SARIA Group was again awarded the EcoVadis silver medal. As an independent and the world´s largest provider of sustainability ratings, EcoVadis evaluates the sustainability performance of about 90,000 companies based on 21 indicators in the four topic areas of environment, labor and human rights, ethics, and sustainable procurement. In 2022, we further improved our performance in all four areas, placing us in the top 11% of our industry.
Our Sustainability Priorities – Dialogue with internal and external Stakeholders
In order to identify which sustainability issues are particularly relevant for us, we conducted a comprehensive materiality analysis including internal interviews and a survey to more than 250 external stakeholders like customers, suppliers, authorities, financial institutions and service providers. Its results are reflected in the contents of our Sustainability Report 2021. For the Sustainability Report 2022, we reviewed these results and made minor adjustments, taking into account the dynamic development of sustainability within our company and without. Assessing materiality helps us to understand how we can better align the needs and expectations of our stakeholders with our business interests.
3
Good Health and
well-being
7
Affordable and
Clean Energy
8
Decent Work and
Economic Growth
9
Industry, Innovation
and Infrastructure
12
Responsible Consumption
and Production
17 
Partnerships
for the Goal